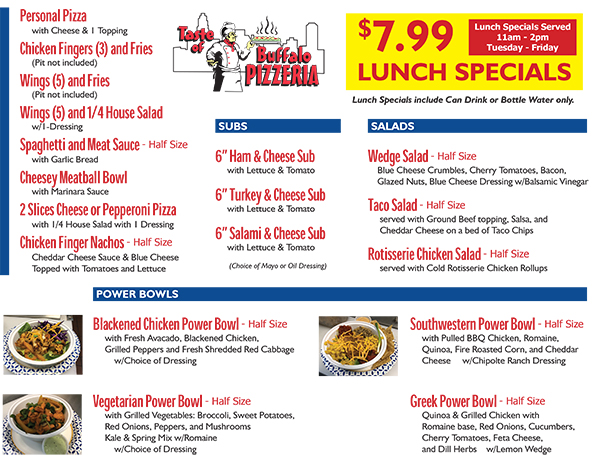 ... See MoreSee Less
I'll take row 1, row 2, and row 3! I can do without 2 and 9 though!
1,3,8 also pizza wings and beef no where else can you get that as good as it is here
Wings, Weber's mustard and beef (if on kümmel) otherwise Hot Dogs
1,5,8 if 8 is beef on weck, not a great picture.
Wings . Weber's , beef on wek
where are the crusty hard rolls?
I can only tell what 1,4,5,6 and 9 are 😳 and I've lived my whole life in Buffalo 🤷‍♀️
What is #7 Cried chicken & dressing? If #8 is supposed to be a hamburger FAIL. As long as chocolate isn't eliminated.
That is not fair, but if I have to chose 3 5 6
1,2 and 3! #3 is the best in WNY!
Chicken wings pizza and sponge candy
4,5,6 or 5,8, 6 it's a tough decision lol
I could only pick two. Wings and pizza.
1,3 and 8. Sponge candy is gross, never heard if the soda or that brand if mustard. Dont know what #7 is, and the bison dip is on the fence, but can easily go and hotdogs are meh.
Any 3 but the loganberry. The rest I will have to buy off the black market. Just can't part with them. LOL
This is hard !!!! 2,4,5 because I can get 1&3 at Taste of Buffalo.
1 and 3 from Taste of Buffalo, hands down. 2 and 6 are great too
We have Anchor Bar in San Antonio for a few years now - so 2, 3 and 4. I miss sponge candy.
Real pizza...I so miss it. Shane's Rib Shack has extra crispy wings but their sauce isn't great (but they do serve with Blue Cheese). I get Sahlen's Hot Dogs at Publix, but I miss the Charcoal grilled ones from Ted's!
1,2,3. But if I could get 5 I would add Ted's Hot dogs and Bison French Onion
3,5,8. Miss that Bison dip
1,3,8. Nobody does wings like Buffalo!
Load more

Good pizza....better sauce! I'm a NY pizza brat & while the pizza was "good" (we ordered a Supreme), I was hoping for a thinner crust; you could tell the dough was fresh but thicker than I would have liked. However, to their credit, the sauce was so yummy I probably would've drank a gallon of it! Meatballs were tasty, too. Staff friendly, cute pub vibe. Interesting menu, I was shocked to see a fried bologna sandwich listed. Quite pricey, too, compared to other places (we paid $10 for 4 meatballs; a little steep if you ask me). I'll certainly return to try other items but probably won't order pizza from here again unless the owners decide to go a little thinner with it!
Tara L

This is the go to place for delivery. We moved here in October and were enjoying spending Sunday afternoons sitting at the bar for casual beer and food when COVID hit. I can't think of a better place to continue supporting with delivery service that TOBP. The food is great and the people that we have met that run the place are top notch.

We will continue supporting and can't wait until we can resume spending our Sunday afternoons there.
Tom Featherston


Genuine Buffalo Pizza and Wings! SO HAPPY to find TOBP The real deal....the right crust, the honest and creamy mozzarella, real pepperoni (as opposed to that faux pepperoni stuff)...oh a real Buffalo pizza. Wings that were equally as authentic to Buffalo NY wings, the buttery hot sauce complimented by the traditional side cup of bleu cheese. What a rare and joyful treat to find this place...they do Buffalo pizza and wings right! Thank you!!
LivinLookinUp

Being from the buffalo area, my husband and I were SO excited to find this place. We ordered a sheet pizza last night (just because we were thrilled that they even had that option lol!) and it was so tasty. Exactly like we're used to and a great price. My husband said it's the best he's ever had! We will definitely be ordering again to try the wings as well.
Devin Bower

Oh my Lord!!! Awesome wings!!! Just tried them for the first time. I have had okay wings around the area but not any that I have considered to be awesome since a little place closed down about 12 years ago. I am so happy I found you guys, not to mention your delivery driver had impeccable manners and was super personable! Get used to me guys! This is the start of a wonderful relationship 😉
Whitney Billups Canter

As someone born and raised in Buffalo, NY, I was incredibly excited about this place when I heard about it. It did not disappoint! From the food and beverages (Loganberry and Labatt Blue, especially �) to the ambiance, I felt like I was right back at home. I'd definitely recommend this place to anyone missing Buffalo food, or anyone who wants some quality pizza and wings! 🙂
Andrea Inbody